About Jo Ann.....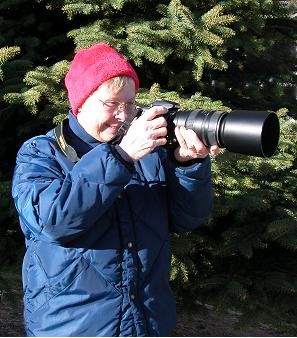 While growing up in Iowa, Jo Ann shared her father's adventures as an avid sportsman in the great outdoors.  From these inspiring experiences, she fell in love with nature and its wildlife.  Her father taught her an enduring patience and an eye for wildlife's delightful moments.  Jo Ann, however, didn't hone these skills until later in her life.
After obtaining a masters degree in Psychology, Jo Ann focused on a thirty-five year career as a care provider, serving as a mental health therapist.  It wasn't until 1988 that she made her first attempt at photography while on a wildlife tour in Africa.  In 1995, Jo Ann participated in her first tour to Hudson's Bay to view polar bears.  The next year, she returned with a camera in hand and a new-found passion for bears, bears and more bears.  In 2003, she participated in her first trip to Katmai National Park in Alaska to photograph brown bears.  With few years missed, Jo Ann has returned to Hudson's Bay or Katmai National Park each year to capture the delightful moments of these great creatures.
In recent years, Jo Ann's passion for other predators and animals has expanded her travels.  In India, the awe-inspiring Bengal tiger captured her heart. In 2013, Jo Ann returned to Africa and rekindled her passion for big cats and their unique features as an apex predator. And, of course, Jo Ann also includes images of grazers and browsers from Africa as well as North America in her repertoire.
Jo Ann hasn't any list of accomplishments, awards or publications for her photography; however, she has received innumerable rewards from the animals she has interacted with through her camera.